Sensodyne® 24/7 Protection Fresh Gel | Sensodyne®
Sensitivity relief*
Lasting sensitivity protection*
Cavity protection
Fresh gel taste
Sensodyne® Fresh Gel toothpaste is a desensitizing toothpaste that comes in a cool blue gel for people who prefer gels. It relieves sensitive teeth by building soothing protection around the nerve*, deep inside the tooth and helps to keep the pain from coming back*. Sensodyne® Fresh Gel toothpaste has a refreshing taste that leaves your mouth feeling clean.
* With twice daily brushing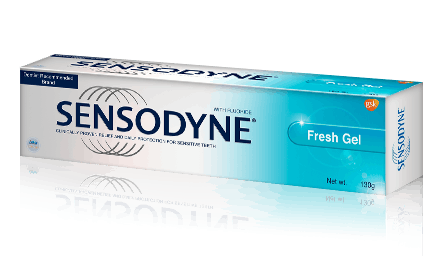 Product Details
Active ingredients
Potassium nitrate, Sodium fluoride.
Inactive ingredients
Water, sorbitol, hydrated silica, glycerin, cocamidopropyl betaine, flavor, xanthan gum, sodium saccharin, sodium hydroxide, sucralose, FD&C Blue No.1
Directions
Adults and children 12 years of age and older:
Apply at least a 1-inch strip of product onto a soft bristle toothbrush.
Brush teeth thoroughly for at least 1 minute twice a day (morning and evening), and not more than 3 times a day, or as recommended by a dentist or doctor. Make sure to brush all sensitive areas of the teeth. Minimize swallowing. Spit out after brushing.
Children under 12 years of age:
Consult a dentist or doctor.
Warnings
When using this product,if irritation occurs discontinue use. Stop use and ask a dentist if:
Sensitivity persists or worsens. Sensitive teeth may indicate a serious problem that may need prompt care by a dentist.
Pain/sensitivity still persists after 4 weeks of use.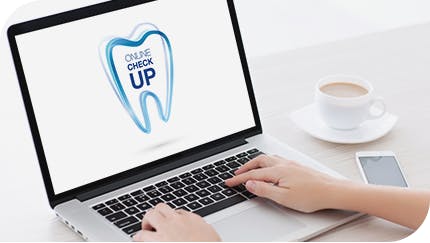 Take the Sensodyne
Online Check Up
Do hot, cold, and sugary foods sometimes cause sudden, sharp sensation? You may have tooth sensitivity. Take the Sensodyne Online Check Up to find out about sensitive teeth and the products that can help you.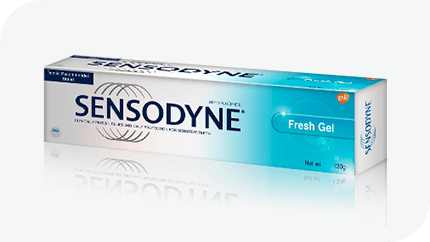 Sensodyne
Fresh Gel
Learn more about Sensodyne® Fresh Gel desensitizing toothpaste which relieves tooth sensitivity pain and keeps the pain from coming back all in a cool blue gel.